Ards and North Down Social Entrepreneurship Programme 2023
The ANDSEP Programme aims to deliver a best practice model that will make a significant impact with participating Social Enterprises.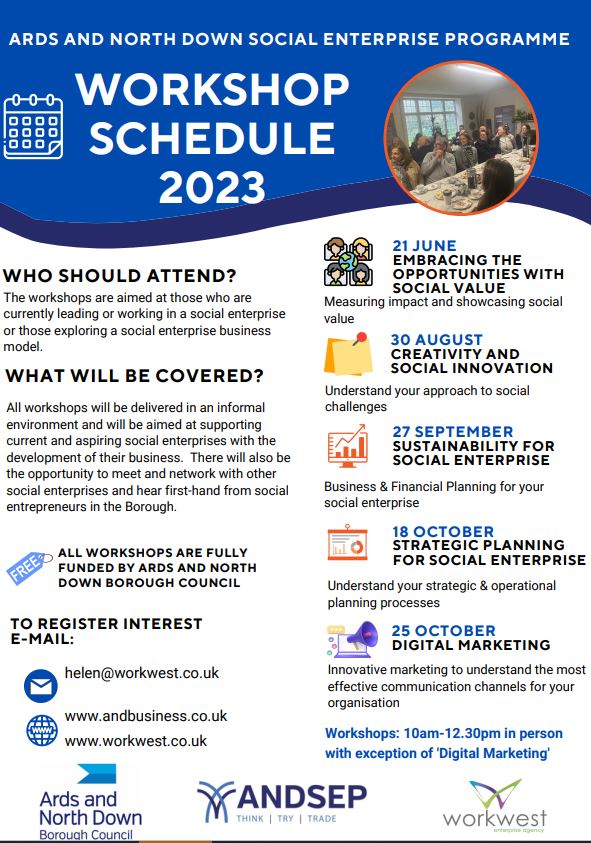 A key element of ANDSEP programme is the development of the Social Enterprise micro-business/SME leadership skills, knowledge and application through structured masterclasses, networking opportunities and 1:1 mentoring. 
Programme participating Social Enterprises micro-business/SME will receive:
A greater understanding of the issues impacting your business

Agreed action plan for improvements in strategic and operational activities that embrace change, innovation and transition

Upskilled through mentoring, attendance at masterclasses

Participating in an established network with participating companies

Retaining a legacy ANDSEP Action Plan to exploit future opportunities

Developing relationship with the Council's economic development support

Greater understanding of the wider funding ecosystem to access additional support.
Programme Eligibility Criteria
Existing Social Enterprise

Based in Ards and North Down Borough Council

Trading for at least 12 months

Have more than one employee excluding the owner/director

Have ambition and potential for growth
Applications are now open, you can see the flyer here and access the application form by filling out the online form.
Previously held ANDSEP Masterclasses:
Creativity and Social Innovation - 30th August 2023
Sustainability for Social Enterprise - 27th September 2023
Strategic Planning for Social Enterprise - 18th October 2023
Digital Marketing - 25th October 2023
To register please email helen@workwest.co.uk and/or maura.bettes@ardsandnorthdown.gov.uk
The programme is fully funded by Ards and North Down Borough Council and delivered on behalf of the Council by Work West.
Apply now for ANDSEP 2023
Access the online application form here
Support for Social Enterprise via the ANDSEP Programme
Other Support
Buy Social Summer
This summer it is likely that more and more of us will be staying at home and looking for ideas of how to spend our well-deserved break with our friends and families.  Recognising this, Social Enterprise NI have decided to promote a #BuySocialSummer Social Media Campaign which will showcase their members and give consumers a selection of ideas of "Things to do" or "Places to Visit" this Summer. Social Enterprise NI have put together a list of #SocialEnterprises which will offer you some great ideas of places to do activities or places to visit this summer. Check them out here:
https://www.socialenterpriseni.org/buy-social
If your social enterprise is offering any promotions during the summer, please get in touch. We will be featuring local social enterprises on our social media channels throughout the summer as part of the #BuySocialSummer campaign. Please email signaladmin@ardsandnorthdown.gov.uk with details of your promotion. 
What Is Social Enterprise #WISE Podcast Series
Social Enterprise NI has launched a new digital initiative, What is a Social Enterprise? Podcast series. Hosted by Cate Conway, the series hears from individuals chatting to Cate about how they operate their business, explaining their business model and the origins of the passion that they have for those they support.
UnLtd
UnLtd is a charity that promotes social entrepreneurship in the United Kingdom. Applications are currently open for UnLtd's Awards.  Their awards offer funding and support to social entrepreneurs trying to start-up or grow their social business, with funding ranging from £5,000 to £15,000.
Find out more about the awards
Community Foundation - Mental Health Support Fund
The purpose of the fund is to equip and enable charities to provide a wide range of support services for people with mental ill health throughout Northern Ireland. This may include services aimed at keeping people well, and/or ensuring that those who have previously been unwell remain well. Grants of between £5,000 and £500,000 are available. 
Local Social Enterprise Good News
Aimée Clint, aged 20, from Ballywalter, a local Social Enterprise and previous ANDSEP participant has been recognised with the highest accolade a young person can achieve for social action efforts having been honoured this week with The Diana Award.   Aimee is NI Young Person to be honoured The Diana Award for going above and beyond in her daily life to create and sustain positive change. 

After her brother was diagnosed with Autism, Aimée struggled to find the resources to help her understand his diagnosis. Whilst on the Young Enterprise NI Company programme, Aimée and her team set up a student business to publish 'No Two Stars are the Same', a book for young people to turn to for support. Aimée went on to set up social enterprise 'Stellas', where she wrote a second book and established a 'buy one, give one' model, so that young people can access support in school. Aimée has received a 'Young Enterprise Journey Award' for her work to raise awareness of Autism and is also the 'Young Ambassador for Social Enterprise NI', inspiring young social entrepreneurs. 
FIND OUT MORE
To find out more information about the ANDSEP programme contact Maura Bettes.