Invest NI
Invest Northern Ireland can provide Brexit help, advice and support for your business.
Invest Northern Ireland have a one-stop resource of best practice guides, information advice and support available to help you prepare for Brexit. Key resources are highlighted, you can find more resources here
If you need further information please contact one of our Business Officers or contact the Invest NI Brexit team on 0800 181 4422
These workshops are open to all businesses and speakers will advise companies on what they should do to prepare for a 'No Deal' Brexit. 
Topics covered include:
Customs, tariffs and taxation
Transport and logistics
People movement and migration
Exploring new markets
 
Dates and venues are available across Northern Ireland.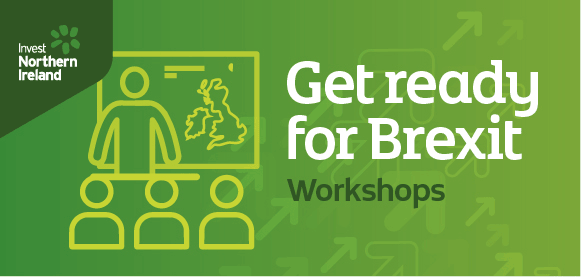 The Get Ready for Brexit Assessment tool is designed to help you assess how well prepared your business is for Brexit and what action you may have to take. 
There are seven areas covered in the tool:
Business strategy
Operations
Innovation
Sales and marketing
Finance
People and management
Legal and regulatory
The tool should take around 15 minutes to complete
The Brexit preparation grant is a specific product which provides financial assistance to Invest NI clients to prepare for the changes and challenges presented by Brexit.
The Brexit preparation grant can be used to:
Strengthen operational capability 
Help develop contingency plans to mitigate the impact of Brexit
Assess Brexit-related risks that could impact on your business such as: supply chains and procurement; customs, tariffs and taxation; export market opportunities; access to skills and labour; contractual arrangements; and transport and logistics.
The grant will offer customers financial support up to a maximum of £50,000 at a rate of up to 50%, to plan for the post-Brexit environment.
Eligible support includes:
Grant assistance up to 50% of one year's salary, to a maximum £20,000, to engage a new or re-deploy an existing member of staff in a Brexit preparation project
Assistance up to £10,000 for a maximum period of 12 months, for office rental located outside the UK, for market research purposes
Up to a maximum £25,000 for specialist consultancy fees for Brexit-related activities
Please note this grant is only available for existing Invest NI customers
As the UK Government and EU release their Position Papers on Brexit, Invest NI have provided short summary briefings of those which cover issues of relevance to Northern Ireland. 
These briefings include:
Agri-food
Financial Services
Life and Health Sciences
Advanced Engineering and Manufacturing
Invest NI have a range of Brexit video tutorials which cover a range of topics from strategic sourcing, commercial contracts, recruitment and selection and export finance.
These tutorials are designed to help you to understand how your business is likely to be impacted by Brexit in these key areas and the key actions you need to take, whilst learning at your own pace and in your own time.
Invest NI have put together answers to the most common questions asked about Brexit. Their section also outlines high-level information and timelines about the Brexit process.
There are three sections: Brexit Preparation, Brexit Impact and Business Sectors.