Learn about apprenticeship recovery packages being put in place by the Department of Education.
Event Details
When
20 January 2021 12:00 – 13:00
About the event
Learn about Apprenticeship Recovery Packages being put in place by the Department for the Economy.
Apprenticeships, like many other areas of the economy, have been impacted by Covid-19. Michael Harris, Head of Apprenticeships Development and Marketing Branch in the Department for the Economy will provide an overview of the Apprenticeship Recovery Package put in place by the Department to minimise apprenticeship job losses; maintain and grow the supply of apprenticeship opportunities; and support apprentices who have been displaced or lost their apprenticeship.
William Greer MBE, Chief Training & Contracts Officer from South Eastern Regional College will also present during this webinar.
Apprenticeships at SERC
South Eastern Regional College (SERC) is an established provider of Apprenticeships through the DfE ApprenticeshipNI programme. SERC currently has over 900 enrolments on ApprenticeshipNI Levels 2 & 3 and 220 enrolments on Higher Level Apprenticeships (HLA) across its main campuses in Bangor, Downpatrick, Newtownards and Lisburn. SERC offers a broad range of pathways with learners enrolled on 32 different professional and technical programmes. The most popular programme areas at Levels 2 & 3 are Joinery, Motor Vehicle (Light),; Plumbing and Mechanical Engineering. At HLA the most popular areas are Mechatronics, Children's Care Learning and Development and Health and Social Care. More recent additions to SERC's portfolio of apprenticeships include Fire and Security Systems, Pharmacy and Financial Services.
SERC engages with a large number of employers and employer organisations in relation to its apprenticeship provision. Over 700 different employers provide employment and placement opportunities for SERC trainees and apprentices. The college has significant experience in developing curriculum with employers for new apprenticeship pathways. In recent years SERC has made a significant investment in additional equipment and resources including digital technology to facilitate the use of innovative delivery methods to support apprentices. The high quality of provision is demonstrated in SERC's apprentice achievement rates. For the most recent cohort Level 2 full framework achievement was 97.25%, and for Level 3 apprentices achievement was 95.77%.
It is entirely at the Council's discretion to accept registrations. Registrations from companies outside the Borough may be considered in exceptional circumstances and at the entire discretion of the council.
Please note that by registering onto this event, you agree to share your name, company name and objectives with the third party delivery agents, Department for the Economy and SERC. The information you provide will not be routinely shared with a third party outside of these webinars.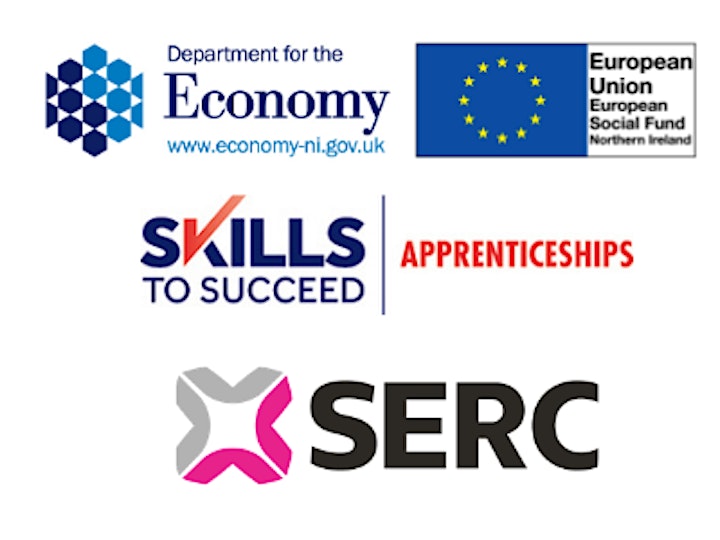 Similar Events
29 January 2021 09:30 – 12:30

Webinar

Under these trading conditions it is important that all businesses are aware of the funding supports and measures currently available.

3 February 2021 10:00 – 11:00

Online

Looking at general VAT rules post Brexit and much more ...

11 February 2021 14:00 – 17:00

Online 

This session will work through a step by step process to developing and implementing an SEO strategy that will help to generate sustainable and profitable traffic to your website ...

18 February 2021 14:00 – 17:00

Online

Identify actionable insights that will improve your website and business performance ...